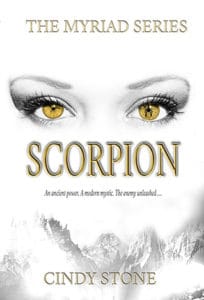 Currently Cindy has completed Book ONE, Scorpion from The Myriad Series, to be released later this year.
It is said that when three powerful forces collide, the Heavens will be moved…
The day began as another for Avery. The disillusioned and beautiful daughter of one of New York's wealthiest and most powerful men, without a hint that she was about to tumble into a bizarre and mysterious series of events which would forever change her identity.
Tired of New York City after a few weeks visit, and craving to return to the Wu Dang mountain monastery and his lifelong teacher Monk Wao. Martial arts expert is thrust into a situation that will test his incredible skills to the utmost…. and his capacity for love.
Using the dark power of a ten thousand year old spell, Master Zheng will stop at nothing to claim possession of what he desires – first the sacred stones, rumored to have been forged from the orange – red dust of a long past star, then the girl whose soul he craves to possess and finally domination of the world's secret society which has now permeated so many of world organizations. The forces of Hell are preparing to unleash the unthinkable terrors. Welcome to the MyriadTime, when the world waits breathlessly at the Abyss…
---
ENDORSEMENTS FOR SCORPION
"'Magic is afoot,' Leonard Cohen has written. That's literally true in Cindy Stone's novel, which begins with a beautiful 'angelman' rescuing a rich girl on a New York subway platform, and moves briskly to martial artists, gurus, evil masters, sacred stones, secret societies and an epic quest. A mystical story that moves like a thriller? Scorpion is that book."
– Jesse Kornbluth,
"An exciting story weaving authentic Asian martial arts and mysticism into an intriguing plot, with characters who really come alive on the pages."
-Alex Kozma, Author,
Warrior Guards the Mountain and Fragments of an Ancient Map – 6th Generation Baguaquan Teacher
"An exciting tale of martial camaraderie, love, and awakening spiritual abilities that echoes the true life stories of all those who have journeyed to Wudang Mountain in search of their destiny."
-Lindsey Wei, 24th Generation Chun Yang Sect of Daoism, 
Author, The Valley Spirit
"Enthralling stuff! A heady mix of esoteric mysticism and modern conspiracy, with unbridled thrills thrown in! … and a perfect combination of mystery, conspiracy and romance! From Atlantis to the Illuminati, via Buddhism, the story is gripping!"
-Alastair Gunn, Author,
The Bergamese Sect (Amazon top 10 Bestsellers)
"Cindy Stone has a unique way of revealing important issues of our contemporary time while blending into the narrative equally, if not more important, solutions. Meditation, internal martial arts and traveling to sacred, mystical spots around the world like the Taoist Wudang Mountains has always proved to be enlightening and empowering in my experience. Her brilliantly written book is a message to everyone that no matter how challenging life can be, when you tune into your true inner potential, you unleash a myriad of powerful resources to help you find the Way. Don't miss out on this exceptional book!"
– Terry Hodgkinson, Author,
Memoirs of a Wandering Ninja – Walking the Path of Enlightenment
"An intricately woven masterpiece by Cindy Stone, Scorpion took me on a mystical journey with twists and turns. Intertwined with deep spiritual and cultural essence, I cannot commend more highly of this magical and riveting literary adventure."
– Natasha Koo, Women's Tribe Leader of Feminine Space
---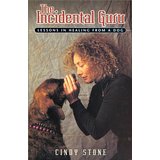 Cindy's first non-fiction book, The Incidental Guru; Lessons in Healing from a Dog detailed the transformational journey in her relationship with her dog Harry, a seemingly unredeemable, aggressive street mutt.
Check out Cindy's author page at www.cindystoneauthor.com or buy a copy of the book at www.incidentalguru.com